Dress Up Prom Princess
It's prom night! All the beautiful girls from school are dressing up for the night and hopefully to get the title of "Prom Princess"! In this game you could create a doll princess of your own from the top! Select eyes, nose, mouths and even the eye colors, and skin tones for the doll, then choose a perfect hairstyle and prom dress for her. She will win the Prom Princess title for you! Have fun!
How to play Dress Up Prom Princess
Tap to play.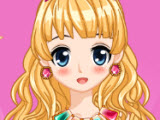 Play Game