mommy and daddy spa salon
It is time for mommy and daddy to take a day off and to
relax! Join this spa game and learn techniques to spoil them while they
are in your care. Mommy will need a new hairstyle and a spa treatment
for the face, then you must build a chic outfit to be ready to meet her
husband. Daddy will have a change of look as well and don not forget to
pamper him with a face cleaning and other relaxing tricks.
How to play mommy and daddy spa salon
For this game, you will need the mouse controller in order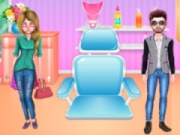 Play Game