Elsa Frozen Brain Surgery
Have you ladies ever wondered what's inside Frozen Elsa's brain? Well, DressUpWho.com brings you the unique opportunity to find out! Our brand-new surgery game will take you into an amazing journey in which you are going to explore each of the little things happening in Elsa's brain.Put your scrubs on and start your neurologist role with a thorough medical exam in order to gather as many details as possible about Elsa's health condition. Check out her temperature and her heart as well and once you're sure she needs a brain surgery, start shaving her gorgeous blonde hair and prepare her for the long surgery hours. Then feel free to dig into her brain and make sure you use the right doctor tools to cut out her little obsessions, to repair whatever you find broken and to reactivate the dead synapses snowflakes. Once you're done, make sure to place everything back together so that she can recover in time for her big Coronation Day. Have a great time playing the 'Elsa Frozen Brain Surgery' game!
How to play Elsa Frozen Brain Surgery
Tap to play the Elsa Frozen Brain Surgery Game!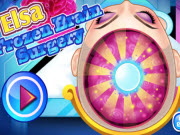 Play Game