My Baby Hamster
Come and adopt your own baby hamster! Take it home and take really good care of it! First, let's clean up the baby hamster and give it a nice shower. When your hamster is tidy and clean, toss some toys and play with it. Exercise is important! Help baby hamster do some running in the wheel. Now it must be hungry and thirsty! Catch as many nuts as you could and feed them to your pet hamster! When it is full and cozy, time to play dress up with it! There are many cute and funny accessories to choose from! Have fun with your baby hamster!
How to play My Baby Hamster
Use your mouse to play.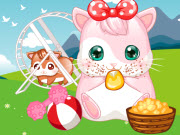 Play Game