Holiday Travel Prep
Guys, our little girl and her mommy doesn't want to spend holiday in their city. So they decide to go to a paradise island. They will have great time here, dancing and singing traditional local songs. Besides these activities, go surfing and play water sports are so interesting. let's help them prepare for this wonderful holiday trip and enjoy this fun game.
How to play Holiday Travel Prep
Mouse to play the game.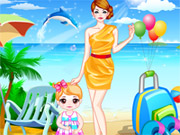 Play Game