Ice Babies Elsa X Abbey
Come and join us in getting the 'Ice Babies Elsa X Abbey' game for girls started, meet the two winter lovers and work out your baby caring skills while taking care of these sweet snowflakes. First of all, pick one baby to spoil today and then fulfill the given tasks one by one: wake her up, give her a cute dress and then put together a delicious ice-cream cone to serve her the morning breakfast and a bottle of milk as well. Great job, ladies! Now guess what? These sweet babies doesn't have toys to play during the day but they surely have plenty of snow to play with so why don't you help them build a funky snowman and to decorate it as nicely as possible? Then go on the next page of the game and choose a really chic dress and the right accessories to style up your cute little baby. Still can't decide who is the cutest baby in our newest baby care game? Then why don't you take the time to take care of them both? Have a great time, ladies!
How to play Ice Babies Elsa X Abbey
Use your mouse to play the Ice Babies Elsa X Abbey game!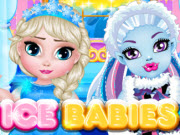 Play Game