My Little Baby Unicorn
Meet your cute baby unicorn! In the game you could learn how to take care of your baby unicorn, play with him, tidy and cure him, and train his flying skills. He like to play outside. When he comes back, he is injured and so dirty! Clean him up and ease his pain with different tools. Then feed him with grass and water. It's time to train his flying skills by collecting the floating hearts in the air. The most fun part is to customize his looks by changing skin colors, hair, eyes and accessories. Have a good time with your baby unicorn!
How to play My Little Baby Unicorn
Use your mouse to play.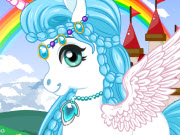 Play Game