Princess Band Tees
From Blink-182, the Beatles, Nirvana, Metallica and more these Disney babes have a band t-shirt to match their musical tastes and maybe yours, too. Come and join them in getting started this brand-new dress up game called 'Princess Band Tees' and discover their latest collection of must have band tees. They come in a wide selection of styles and prints and your task ladies will be to properly match each of them with the right leather jackets, shorts, ripped jeans and boots. Elsa, Mulan, Rapunzel and Tiana can't wait to hit the streets in perfectly mixed and matched urban outfits created by their favourite fashion adviser our there: you! Go wild and have fun!
How to play Princess Band Tees
Use your mouse to play the Princess Band Tees game!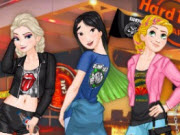 Play Game