princess-belle-baby-bathing-time
After Pacifying the Belle's Baby in the previous episode of this game you will be more excited to play the next version of Belle Baby. After waking up from the deep sleep, Belle's baby needs a refreshing bath. You are the best friend for this baby and of course for Belle also. Start playing with Belle's Baby by filling the tub with warm water and add a few drops of shower gel in it. Take shampoo and apply it on her hair, spread it with the hands and make sure to open the shower to wash her hair. Baby needs to play with the toys now, so give her a toy, she feels happy. Take a baby soap and gently apply it over the Baby body and open the shower to wash the foams. Baby is wet now so quickly dry with the towel. Belle and her baby are passion of modern fashion so you can use a mild heated dryer to dry her hair. Apply Oil over the baby because it is mandatory to give an oil massage for babies for perfect growth so give her a relaxing massage. Baby is ready now. You can also beautify the baby by choosing flawless accessories and dresses for her from the wide range of costumes. Have fun with Belle's Baby.
How to play princess-belle-baby-bathing-time
Mouse to play the game.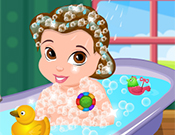 Play Game