Ariel and Eric's Halloween Makeover
High school sweethearts Eric and Ariel are torn about what to wear on Halloween party this year. Ariel just watched the movie Suicide Squad and she came up with the idea of dressing up as Joker and Harley Quinn. This is a super cool idea! Let's help Ariel and Eric start the transformation! There are many fun makeup ideas that you could use in your own makeup. Follow the instructions on game and learn them! After the makeup session, select the outfits of Joker for Eric and dresses of Harley Queen for Ariel! Their Halloween makeover this year would be a blast in school party! Have fun!
How to play Ariel and Eric's Halloween Makeover
Use your mouse to play.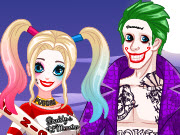 Play Game