Ariel Reborns
Girls, Ariel reborns today! She is ready to step into a complete new level. We found some magic underwater products for a full makeover so our special mermaid is ready to be transformed. Use your imagination to create a special unique look for mermaid Ariel because she wants to impress her mermaid friends tonight. Check our makeover products, apply them on her face and then be a stylist while you pick a fashionable outfit for pretty Ariel. Enjoy!
How to play Ariel Reborns
Mouse to play the game.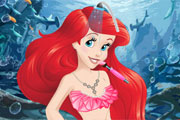 Play Game