Fairy Tale Princess
The Fairy Tale Land is ruled by a beautiful princess... her eyes sparkle like a starry night sky, her hair shines like diamonds upon the warm sunlight. First follow some hair care steps, next create the perfect make-up and dress her up, and live like a fairy tale princess today! Use your mouse to play and follow the instructions in the game!
How to play Fairy Tale Princess
Mouse to play the game.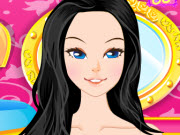 Play Game