Mermaid Wedding Spa Day
Colorgirlgames is introducing a new HTML5 game this week -

Mermaid Wedding Spa Day. Mermaid princess Gena is preparing for

her wedding day. She comes to the wedding center to start her

wedding prep from head to toe. First she will need a body spa

treatment to make her body looks flawless in her wedding gown.

Then let's pamper her face with great skin caring products. The

most important task is to select a glamorous wedding gown for

her. Everything is perfect! Enjoy this fun html5 game and have a

great wedding day with mermaid princess!
How to play Mermaid Wedding Spa Day
Use your mouse to play.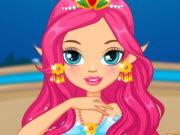 Play Game