Ariel Valentine Lookbook
What's your Valentine's plan? Disney princess Ariel has her day planned all out - 3 backup plans to choose from: a romantic date with her boyfriend, a day out with her girl friends and a crazy night club night if she is not acompanied. She definitely will look fabulous anyway. Let's help her create 3 looks for her 3 plans. When she is all dressed up, let's take some photos to create a Valentine lookbook for her! Wish you a fabulous and romantic Valentine's Day! Have fun, girls!
How to play Ariel Valentine Lookbook
Use your mouse to play.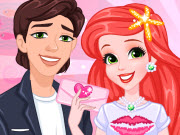 Play Game