Barbie Autumn Fling
Barbie absolutely adores autumn. She can't wait for autumn to come so that she will get back to school, where she will meet all of her best friends. Barbie is a very popular girl, so she has a lot of friends. Although she has all these friends, she misses having a boyfriend, so she has put up a plan to solve this tiny issue. In Barbie Autumn Fling, you are going to help cute Barbie get ready for the first day of school, where she wants to meet her next boyfriend. Have fun!
How to play Barbie Autumn Fling
Mouse to play the game.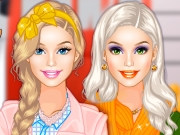 Play Game