Barbie Cherry Blossom Wedding
Barbie always wanted a destination wedding. Ken suggested it's cool to have a cherry blossom wedding in Japan! Barbie loves this idea! Let's start to prep for Barbie the bride to be! First let's give her a nice and fresh cheery facial to make her skin glowy. Then apply a perfect cherry blossom bridal makeup for Barbie. The most important thing is to choose a gorgeous wedding gown, with cherry blossoms on the dress! Now let's play this fun Barbie Cherry Blossom Wedding and give Barbie a wedding she will never forget! Have fun!
How to play Barbie Cherry Blossom Wedding
Use your mouse to play.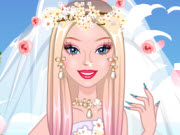 Play Game