Barbie's Spooky Costumes
It's Halloween again, and gorgeous Barbie knows this is the time to shine. Well, shine is a lot said, but she really has to figure out a costume that she will wear this Halloween. In Barbie's Spooky Costumes, you are going to have the really important assignment of helping her find the perfect costume. You will begin you assignment with a nice dress up session in which you will be mixing and matching the spookiest costumes out there. Have fun!
How to play Barbie's Spooky Costumes
Mouse to play the game.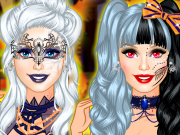 Play Game