Cinderella First Kiss
Cinderella, one of your favorite princess from Disney, has a crush. She loves her prince and he invited her to this years' prom night. She needs to look super cute in a new dress, because she and her friends are absolutely sure that he will make the big step and give her a kiss. She can't wait for this moment in Cinderella First Kiss game, on egirlgames.net! You will need to help her choose the glam dress for this super fun event at high school. Can you check all the new collections and choose the most amazing gown for the princess? I am sure you will choose something with gorgeous sparkle and amazing flowly details. In Cinderella First Kiss you will need to accessorize her elegant red and silver dress with a new hairstyle, earrings and a purse. Choose a diamond necklace and a pretty clutch. Make sure she chooses a nice hair bun to go along with the elegant look. In Cinderella First Kiss you can now gather all the votes so that the lovely couple can be Queen and King of the prom. Take a nice photo of the couple and enjoy this new and fun game called Cinderella First Kiss!
How to play Cinderella First Kiss
Mouse to play the game.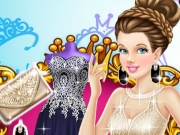 Play Game