Cinderella Harley Quinn Cosplay
Cinderella is a huge comic book fan so when her favorite comic book characters came together in one amazing movie, she knew that she had to go to the next Comic Book Convention dressed as her favorite character of all time, Harley Quinn! The eccentric character of Harley Quinn is as beautiful as she is fierce so needless to say that a Harley Quinn costume has to be absolutely fabulous. Our brand new game called Cinderella Harley Quinn Cosplay will allow you to create an amazing Harley Quinn look for beautiful Cinderella so use your imagination to create the perfect cosplay. A super important part of Harley抯 look is the makeup so use a bold lipstick color and an amazing eye shadow combination and finish off the look with mascara and blush. Experiment with different combination until you get that prefer Harley Quinn look and then go ahead and move on to the dressup stage. Choose a wonderful blue-pink hairstyle and then go ahead and create the outfit. Mix and match cool tops with an even cooler skirt or pair of pants and then accessorize the look with Harley's favorite accessories. Enjoy playing our fabulous game: Cinderella Harley Quinn Cosplay!
How to play Cinderella Harley Quinn Cosplay
Mouse to play the game.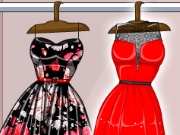 Play Game