Elsa Nose Problems
Elsa is having some health issues and in this Elsa nose doctor game you will be fixing them as well as you can. You have instructions and also the best tools available to ensure a quick recovery.
How to play Elsa Nose Problems
Use the mouse to play the doctor with Elsa.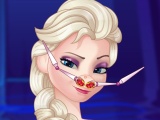 Play Game