Anna London Traveling Blog
Frozen princess Anna is traveling in London. It's her first time to visit this city, so she decided to post photos and update her traveling dairy with her blog. First, Anna wouldn't miss the delicious food! Let's see what she had for breakfast! Is it fish and fries, or is it English tea with exquisite snacks? On sightseeing day, Anna needs your help select a perfect outfits for wandering around the city. London is also unknown for its culture and education. Dress up Anna for a tour in the university campus! Each time you take a picture of Anna, post it on her blog. It's a perfect traveler journal! Enjoy your stay in London!
How to play Anna London Traveling Blog
Use your mouse to play.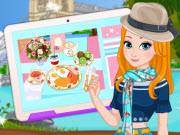 Play Game