Ariana Grande Wardrobe Magic
Ariana Grande is a singer with strong personality. We love how she matches everything together and creates her own personal style. Let's work as Ari's agent and find out her wardrobe magic! Email Ariana her agenda for the day, which is showing up at the red carpet, go shopping with BFFs and working out in the gym. Whether the dress code is elegant or casual, Ariana could always find a way to work it! Play this Ariana dress up fashion game and have fun!
How to play Ariana Grande Wardrobe Magic
Use your mouse to play.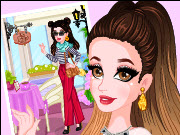 Play Game