Barbie Coachella
It's that time of the year again… it's just about the time to prepare yourselves ladies for Coachella, the most awaited music festival of the year! With only a few days left until its start Barbie has already begun to wonder what jaw-dropping looks to flaunt this year and this might me your chance to get inspired. Come and join her in getting our brand-new Barbie Coachella game for girls started and check out all the items you need to make a good impression. First of all, learn how to apply a long-lasting make up look making sure to use a colourful eye shadow color, a waterproof mascara and a bold lipstick color. Then go to the next page of the game and check out Barbie's super special Coachella wardrobe. There you will find a wide array of tops that you can match with shorts, fringed shorts or bohemian skirts, denim jackets or embroidered cardigans, with oversized necklaces and with flower headbands which this year are a must. Mix and match them and create several looks for her to choose from. Have a great time helping Barbie deal with her Coachella looks and get inspired!
How to play Barbie Coachella
Tap to play the Barbie Coachella Game!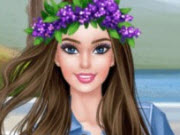 Play Game