Barbie Galaxy Fashion Report
Enjoy one of the coolest trends of the year and help Barbie get a stellar look by playing Barbie Galaxy Fashion Report! One of the fashion reports of the year is the galaxy trend. With a funky vibe and giving versatility in terms of fashion and makeup, the galaxy style is very popular among girls. Barbie has also been caught up by this fashionable trend, so help her get the most original and colorful look in order to make a fashion statement. Play this cool new game called Barbie Galaxy Fashion Report and choose stunning color combinations in the makeup and dressup options that this game has to offer. Find inspiration in the makeup part and make sure you choose amazing colors that pop. Barbie is so exciting to get a unique makeup, with a glittery lipstick, incredible eye shadow combinations and mascara to complete the look. The dressup part will surely amaze you, so take your time to browse through these galaxy-fashion inspired pieces. The galaxy print is a go-to-choice for an everyday look, so choose a stellar dress or match a Sailor Moon top with a bold printed skirt. Take your inspiration to another level and help Barbie get a catwalk galaxy look!
How to play Barbie Galaxy Fashion Report
Mouse to play the game.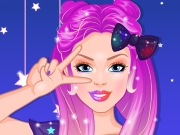 Play Game