Barbie Paper Bag Pants
Paper bag waist pants are this spring season must have clothing piece and cute Barbie can't wait to test out the latest pieces of this amazing fashion trend. Everybody loves these flattering pants and Barbie can't wait to try on hers. She still needs to learn how to accessorize them so you ladies are invited to join her in and help her put together some amazing clothing combinations. There is a wide selection of paper bag waist pants available in Barbie's spring wardrobe, so feel free to go through them all and select your favorite pair to dress her up with. Then go ahead and find the best top to pair your selection with. Being a pair of high-waist pants, a crop-top would make the best option but you can also go for a bodiced shirt to complete Barbie's attire with. Next look for a pair of pumps to match, select a cross-body bag as well and a colorful sun hat to complete her fashionable look with. Have fun!
How to play Barbie Paper Bag Pants
Tap to play the Barbie Paper Bag Pants Game!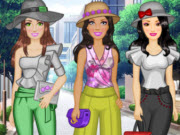 Play Game