Barbie Sweetheart Bridesmaid
Barbie's best friend is getting married and asked her to be the maid of hornor. She starts to consider how to dress up perfectly for the occasion and yet not to steal the thunder from the bride. She found this great bridal shop with lots of bridesmaid dresses and accessories. Let's go shopping with Barbie and help her create a perfect bridesmaid look. Have fun!
How to play Barbie Sweetheart Bridesmaid
Use your mouse to play.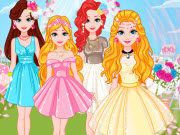 Play Game