Barbie's Yeezy Line
It's the most awaited collaboration of the year… Barbie's Yeezy Line is now ready to hit the market and it's going to be a huge success, that's for sure. You ladies too get to be a part of this important fashion project as cute Barbie needs a personal stylista and a talented photographer to shoot her outfits. But first, get ready to style the coolest urban looks for Barbie getting this brand-new dress up game for girls started. Go through Barbie's line of body-fitting dresses, turtle-neck tops, ragged ripped jeans, hot looking leggings and loose coats, mix and match them and create five different looks to shoot later on. Find the right shoes, hats and jewelries to accessorise each outfit with. Then style up her hair and give her a bold make up for a complete look. Shoot the final look and move on to the next one! Have fun, ladies!
How to play Barbie's Yeezy Line
Tap to play the Barbie Spy Squad!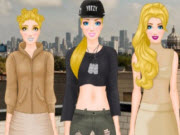 Play Game