Beauty And The Beast
What it takes for this fierce beast to conquer sweet Belle's kind heart? A lot of attention to details and a bit of something else… but let's join them in to find out some more! Get the 'Beauty And The Beast' game for girls started and help the Beast impress and win Belle's heart … this way the spell will disappear and he will turn into a charming prince. The first giver task is to help him find the most beautiful flower in the garden. There are a wide variety of roses and tulips out there but only one of them will make her beauty stand out, which one do you think it is? Then you'll have to find the right pet to keep her company in that big castle, make sure to choose wisely. Diamonds are surely a girl's best friend, but should he pick a statement necklace or a sparkling tiara? You've done such a great job, ladies! Now Belle needs your precious helping hand, too. She has been invited to attend a royal ball so she needs to get dressed as nicely possible. Join her in her dressing room, select the most gorgeous dress in there and match it with the right shoes, jewelries and other accessories to make her stand out of the crowd. Have a blast!
How to play Beauty And The Beast
Tap to play the Beauty And The Beast Game!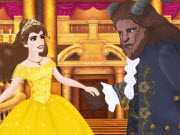 Play Game