Belle Books And Fashion
Have fun playing Belle Books And Fashion and help Belle find her daily inspiration with a book themed room and outfit! Diving into books has always been a sweet pleasure for Belle, so you get to share her book addiction in this new game we have for you. Go ahead and start by helping the lovely princess redecorate her room. Add bookshelves with rainbow looking books, choose colorful pillows with fun reading quotes, add some delicate light into the room and you can even pick a color for the carpet and the curtains. Make her room as lovely as possible in order to feel inspired everyday and read her favorite books in a cute atmosphere. Then, it's time for a fun dressup book theme related. Enjoy amazing Pinterest inspired fashion, that will allow you to create a unique outfit. You can try out a cute fox printed dress or you can go down the rabbit hole and try a comfortable top with a chic skirt to match. Regarding the accessories, you can choose some fun ones such as a cute book purse or a book scarf. You can also choose a mug with a book print and a pair of glasses for a fun look. Enjoy your time playing this exciting game!
How to play Belle Books And Fashion
Mouse to play the game.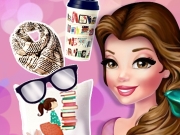 Play Game