braided hair salon
No wonder that the first date is the most important one for each couple, but as a girl you are concerned about many things and this hairstyle game will let you remove some of them for a nice girl who needs your help. Braided hair is actually the theme of this game and as a hairdresser you will try to recreate some interesting braided haircuts in order to prepare this girl right.
How to play braided hair salon
You will need the mouse to play this game.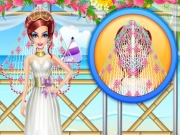 Play Game