Chinese Princess Doll Avatar
What will you look like if you are born as a royal Chinese princess? Play this fun game and find out! You could design you own Chinese princess doll avatar starting from choosing your favorite brow shapes, eyes, nose to outfits and accessories. Create a unique and beautiful royal princess designated by you. You could choose where to live as well. Have fun!
How to play Chinese Princess Doll Avatar
Use your mouse to play.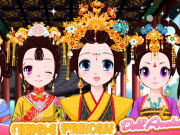 Play Game