Christmas Tree Inspired Hairstyles
Today we are going to blow your mind with some Christmas tree inspired hairstyles which is the next crazy beauty trend. Now this fun, interesting and height-defying holiday hairstyle is so sophisticated and attention-drawing that the real challenge is to find the right winter outfit to go with it. In our brand-new dress up game for girls we've gathered the cutest Christmas tree inspired hairstyles available on the internet, we've invited three of your favorite Disney Princesses - Elsa, Ariel and Moana - to try on these statement hairstyles and now we invite you ladies to browse through their Christmassy wardrobes and choose the loveliest holiday outfit for each of them. Get the game started to join the girls in and see what statement looks you can put together for each of them!
How to play Christmas Tree Inspired Hairstyles
Tap to play the to play the Christmas Tree Inspired Hairstyles game!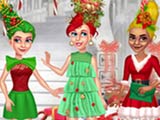 Play Game