Christmas With The Kardashians
Nobody does Christmas as the famous Kardashian sisters! Excepting you! This year you are one of the luckiest persons in the world to join their one of a kind celebrations as you are in charge with their statement Christmas looks. Cool, huh? So who is now ready for some amazing winter holidays? Come and join Kylie, Kim, Khloe and Kendall in getting the 'Christmas With The Kardashians' dress up game for girls started and see what cute, Christmassy looks you can put together for each of them. In their holiday wardrobe you will find some of the cutest red corsets, glitzy mini-skirts, faux fur capes and vests, Christmassy themed sweaters, party pants and more… so feel free to mix and match them as you wish and select the best holiday look for each of them. Finally you can accessorize their outfits with your favorite Christmas accessories: there are Santa hats, reindeer noses, candy-cane colored earrings and even some super cute ribbon adorned jewelries for you to choose from. Have a blast, ladies!
How to play Christmas With The Kardashians
Tap to play the Christmas With The Kardashians Game!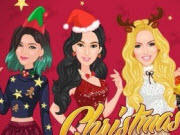 Play Game