Cinderella Enchanted Ball
There's an important ball at the palace tonight and you must help these three wonderful princesses choose the perfect dress! Go through different hairstyles, accessories and decide what each of them should wear. Pick a mask for a more mysterious look and get ready to have an unforgettable night with Cinderella and her best friends!
How to play Cinderella Enchanted Ball
Mouse to play the game.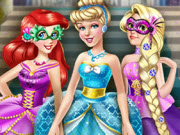 Play Game