Date My School Crush
Hannah is an ordinary high school girl. She has a huge crush on Sebastian, the school super star, who has his own fan club. After she was mocked and treated badly at Sebastian's concert by two popular school girls, she decided to change. Play this game and find out what happened to Hannah and how she works hard to look beautiful and gets a date with her school crush. Have fun!
How to play Date My School Crush
Tap to play.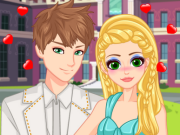 Play Game