Disney Princess 20s Fashion Contest
Disney princesses Ariel and Rapuznel are fond of fashion. They love to try different styles of different times. When they are looking for inspirations online, the 1920s fashion caught them. They decided to have a 20s fashion contest. Low-waisted dresses, ruffled blouses, and cute shoes, matching with the popular bob hairstyles and cute hats or headwear, the 1920s look are so vintage and perfect. Let's see which princess will win the contest and have more likes on facebook. Have fun!
How to play Disney Princess 20s Fashion Contest
Use your mouse to play.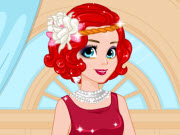 Play Game