Disney Princess Wedding Studio
As a top wedding designer, you will have a very busy day today. Disney princesses Rapunzel and Ariel are preparing for their wedding. They come to visit your wedding studio and they both want you as their stylist! First of all, let's pamper their skin with the best facial products so their skin look glowing and flawless. Then help each princess design a perfect makeup look. The most important thing is to choose wedding gown and accessories to finish their wedding style. Have fun playing this Disney Princess wedding makeover game!
How to play Disney Princess Wedding Studio
Use your mouse to play.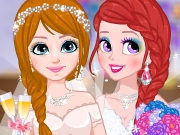 Play Game