elsa metallic skirts
The lovely Frozen princess, Elsa, has a fashion blog. She likes to share new ideas, and today is no different. She wants to make a blog all about the metallic skirts. Help her write and create a few outfits in the new and exciting game called Elsa Metallic Skirts, here on egirlgames.net! She will need a cute outfit with a nice skirt, lovely blouse and matching accessories. Make sure the skirt is metallic and super cute for the lovely princess,so everyone can admire and follow her fashion advice. In Elsa Metallic Skirts you can also choose a brand new makeup. Try colors with pink, blue and red and add a blush on the cheeks and a nice mascara on the lashes. I am sure she will get many apreciations on her look and every one will wear metallic outfits. Enjoy Elsa Metallic Skirts!
How to play elsa metallic skirts
Mouse to play the game.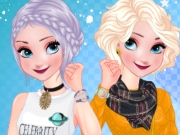 Play Game