Frankie Stein Monster Maker
Today we are going to need your detective skills to each though our secret laboratory for a couple of hidden items that we are going to use as different parts of our doll's body. Once you've managed to spot them all out, you can then move to the next page of the game and build your gorgeous doll. Make sure to also sew the different pats between them 'cause in order to make sure she won't loose them again. Great job, ladies! Go on and dress your lovely monster in a chic two pieces outfit, making sure to accessorize your selection with a stunning pair of heels. Now why don't you help her beautify her laboratory by decorating it with colourful and girly-girl furniture pieces and items? Have a great time playing the 'Frankie Stein Monster Maker' game for girls!
How to play Frankie Stein Monster Maker
Tap to play the Frankie Stein Monster Maker!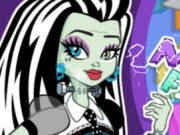 Play Game