Frozen Sisters Go Pastel Goth
Frozen sisters Elsa and Anna are trendsetters in school. They love to try different fashion styles. This summer they want to go pastel goth, which is a perfect way to combine girly elements and gothic culture. Help both girls create the best pastel goth makeup looks with typical gothic colors purple and black. Yet don't be afraid to add pink and green, too! Then choose from these gorgeous outfits. Match them with ombré tights and cute creepy accessories. Update your hair by dyeing with gorgeous shades. Enjoy the pastel goth trend as the frozen sisiters do! Have fun!
How to play Frozen Sisters Go Pastel Goth
Use your mouse to play.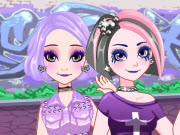 Play Game