heart-bangs
The heart shaped bangs have been pretty popular in Korea in the last year and now, we at Dressupwho.com, plan to make it known world wide. We've featured three popular heart bangs in our brand-new hair game for girls... ready to learn how to style up your own bang in this popular trend? Then join us in getting the 'Heart Bangs' girl games started first of all decide on the shape of the heart: your bangs can get an upside-down Sailor Moon inspired shape, the Sailor Moon inspired bangs shape or a narrowed and centred look - it's up to you! Then follow a few instructions to properly style it up and don't forget to also give yourselves a bright make up look, choose your outfit and some accessories to complement it as nicely as possible. Have a great time playing the 'Heart Bangs' game for girls!
How to play heart-bangs
Tap to play the Pet Salon Doggy Days Game!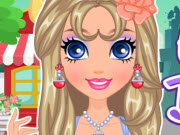 Play Game