iPhone X Makeover
Elsa just bought herself a new iPhone and while playing with it she managed to drop it on the floor. As a result of the high impact the phone's screen crushed and a few internal pieces got broken. You can't imagine, girls, how sad our favourite Disney Princess is but I'm sure one of you can help her feel better by fixing the broken phone. So come and join her in getting the 'iPhone X Makeover' and while working out your amazing skills try to repair her broken gadget. Then you can also decorate it as nicely as possible. Have fun!
How to play iPhone X Makeover
Tap to play the iPhone X Makeover Game!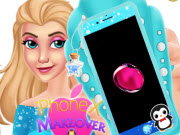 Play Game