Mermaid Princess Nail Salon
Deep down in the ocean, there is a Mermaid Nail Salon. Mermaid princesses like you are welcome to this nail salon! For starters, pamper your hands with a great treatment. Then let's design glamorous nail arts for each nail. There are many nail polish colors, patterns and little jewels to use. Use your talent to create the best nail art! We have prepared lots of accessories for mermaid princesses. Try them on and make your hands even dazzling! Have fun!
How to play Mermaid Princess Nail Salon
Use your mouse to play.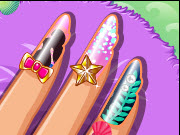 Play Game