Mother's Day Nails
Disney princess Rapunzel has the sweetest girl in the world! For the coming Mother's Day, her daughter wants to give Rapunzel a manicure! There are two styles: flowers and glitters. The floral nail art and beautiful flower nail accessories are basically go with all her outfits. But who doesn't love glitters? The sparkly and shiny nail art will definitely light life! So which theme do you prefer? Play this fun manicure game and give Rapunzel and Mother's Day surprise! Have fun!
How to play Mother's Day Nails
Use your mouse to play.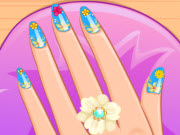 Play Game