My Sweet 16 Birthday Picnic
How do you want to celebrate your sweet 16? Princess Lola would like her 16 birthday fun and unique. A brithday picnic sounds interesting! Help the princess dress up for her birthday party, outdoor! Then design the most cute birthday picnic setting for her! The food, flowers, celeration decorations and most important, the birthday cake! Have fun!
How to play My Sweet 16 Birthday Picnic
Use your mouse to play.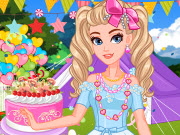 Play Game