new spring wardrobe 2
Prepare yourself for a new shopping session because spring has come and you have got to look amazing in the light of the beautiful sunshine that raises once with the colorful nature. You should adopt an impressive makeup to Laras outfit and for sure you have to add some cool accessories to match it all. Assemble a complete look, put on a dress or why not a sporty top with a pair of pants. Have fun and help Lara with her aspect.
How to play new spring wardrobe 2
Use the mouse to play this game.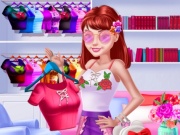 Play Game