Prince Romper Squad
The rompers for men is the new fashion craze in town and four of your favourite Disney Princes are going to try on these colourful, summer fitted one-piece shirt-and-short combo and you ladies are going to help them out! So come and join the brave man in getting our exclusive 'Prince Romper Squad' dress up game started and see what daring looks you can put together for each of these male characters willing to make a fashion statement. The rompers in our game come in a wide variety of colors, some of them feature playful prints while others are plain and more easily to be accessorised. Depending on their style male rompers can be accessorise with loafers, sneakers and moccasins, with bomber jackets or with checkered shirts, with hats, sunglasses and with… statement beards, of course. Feel free to go for bold choices when dressing up the Frog Prince, Kristoff, Li Shang and Prince Eric.
How to play Prince Romper Squad
Tap to play the Prince Romper Squad Game!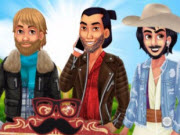 Play Game