Princess Anna Punk Rock Makeover
Princess Anna is tired of being a princess. She wants to try the punk rock style. Why don't you work as her stylist and start her makeover right away! First, let's give her a facial and pamper her skin with beauty products. Then the most fun part is to create a pretty and cool puck rock makeup look! Try the darker colors for the look! Finally select a perfect outfit for Anna. It's very important to add some typical punk and rock accessories like percings and chokers. Have fun!
How to play Princess Anna Punk Rock Makeover
Use your mouse to play.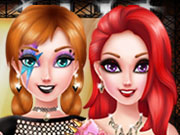 Play Game