Princess Belle Shy Vs Daring
Play this lovely game named Princess Belle Shy Vs Daring and try to mix and match these two styles to find the perfect fit! Princess Belle is a sweet girl, very beautiful, but also very intelligent and a bit shy. Start this game by getting into her comfort zone and dress her up with cute clothes for a nice girl. But also let's see what happens if Belle tries out a more daring fashion style. She might end up loving it! Now that she has tried out both looks, she can choose what she likes from each and combine them! Have a great time!
How to play Princess Belle Shy Vs Daring
Mouse to play the game.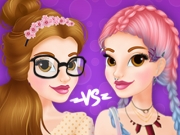 Play Game