Princess Bridesmaid Rivalry
Princess Anna is getting married! Her sister Elsa and her best friend Ariel both wants to be her bridesmaids. Who will win the rivalry? There are 4 challenges for them, who wins the challenge will be Anna's maid of honor. Let's start the rivalry! The girl who wins will have the chance to pick a gorgeous dress for the wedding! Let's find out who will be Anna's bridesmaid! Have fun!
How to play Princess Bridesmaid Rivalry
Use your mouse to play.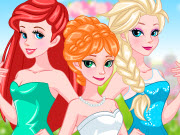 Play Game